We are a company from Malaga, present in Andalusia and the entire national area, with 20 years of experience.
Delta Constructora, specialized in engineering and infrastructure, building, rehabilitation, and derived services.
We are a company born in Malaga in 2003. Today we are a competent company that provides solutions based on knowledge and innovation, close and involved with our clients, providing them with the peace of mind they need to trust in our work.
Fundamental to focus each project professionally, anticipating possible situations and providing realistic, accurate and effective solutions.
Our clients have the full guarantee that their investment and their professional trust is in the hands of a solid, accredited and competent company.
The market is undergoing rapid changes that require us to invest in technology and keep our knowledge updated to offer more competitive solutions.
We give access to all the information that our clients need in each of the development phases of our activities for their total peace of mind.
Our customers and suppliers need to receive personalized attention, support and advice to faithfully meet their expectations.
We are sensitive to the accessibility, habitability and usability of spaces, always within the framework of environmental sustainability.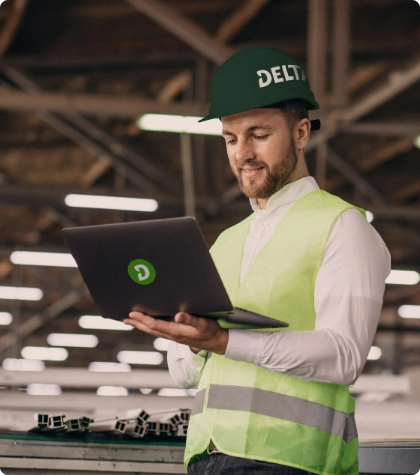 OUR TEAM
Successfully dealing with such complex works requires us to have a human team that is always up to the task.
That is why we have a multidisciplinary, versatile group that is in constant training to effectively tackle each project.
WE MOVE FORWARD
A company is more than its legitimate business objectives. It is also a commitment to the progress of a community, to the welfare of people.
Delta Constructora is founded on human values and a philosophy of sustainable development that seeks to reconcile economic growth with the growth of our society. For all of us to keep moving forward together.
We belong to:
Delta Constructora is part of different associations that contribute to the consolidation of a key sector for economic and social development.
We work closely with public organizations and administrations to achieve the objectives of conciliating economic growth and citizen well-being.
Shall we develop your project together?
If you need more information or want to have a meeting, contact us without obligation.